We are the experts when it comes to a multitude of contracting services.
You can count on us to bring integrity and high quality to every job, every time.
Here are some of our capabilities:
New construction
We are proud to showcase our capabilities and the quality of our work. Click on our projects to take a walk through our project photo gallery, and let us know what we can do for you.
Docks are where our clients' products meet the road. However, due to heavy use, docks are in constant need of repair or upgrades. Dock sites, levelers, doors or shelters are a steady diet for Bertolet Construction crews.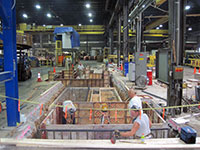 Many of our clients must make repairs and alterations to their facilities when production is stopped. Having a multi-talented and experienced contractor like Bertolet Construction at your side during stressful times will give you confidence and peace of mind.
From additions to buildings, pre-engineered structures are a cost-effective solution. Using pre-engineered designs is just one of the many ways we help our clients achieve their construction goals in the most beneficial way possible.
Bertolet Construction is PennDOT prequalified for the construction of culvert bridges, storm sewers and other concrete structures. We also repair and build bridges that are of free span construction for our industrial clients.
Reliable . Honest • Service & Safety Driven